Welcome to our our parish worship and teaching live-streamed:
Holy Communion:  10.00am  Sundays
                                         10.00am Wednesdays 
                                         5.45pm   Fridays (Healing Service) 
Teaching:                   3.00pm  'Teach us to Pray' a series of 30 minute talks on prayer:
Monday 4 May   3pm  prayer and desire
Tuesday 12 May 3pm  prayer and the Spirit
Monday 18 May  3pm  prayer of Jesus 1. his teaching
Monday 25 May  3pm  prayer of Jesus 2. his practice
Monday 1 June  3pm  prayer of St Paul
Tuesday 9 June 3pm  prayer of the heart
Pew-Sheet-for-Sunday-24th-May-Easter-7
Order-of-Sertvice-10am-Sunday-24-May-Easter-7
From Father Peter,
Worth reading! 

Roland Ashby (former editor of The Melbourne Anglican) beautifully sets out St Antony's perennial insights on transformative spiritual practice as he reflects on  'Coronavirus, Easter and the rebirth of compassion', The Age,  https://www.theage.com.au/national/victoria/coronavirus-easter-and-the-rebirth-of-compassion-20200409-p54iob.html    
The ancient practice of Spiritual Communion for circumstances such as COVID9
Sunday Eucharist 10am,  Wednesday Eucharist 10am  and Friday Healing Eucharist at 5.45pm  are live streamed.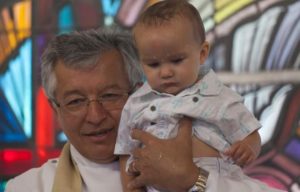 We acknowledge with gratitude that we gather on the traditional lands of the Wathaurong people of the Kulin Nation and we acknowledge and pay our respects to their elders past and present.