Sunday 19 September, 2021
This month, September, our Sunday Eucharist is at our Point Lonsdale church of St James.
Welcome All, near and far,
We have our full quota of 20 people in the church building for this week: Sunday 19/9/2021.
Please let us know if you would like to come the following Sunday, 3 October.  
Download the Order of Service with the Readings below.
We begin livestreaming at 9.55am for a 10.00am start.
As we bring our gifts of bread and wine to the altar so we offer ourselves and all we carry in our hearts – all participating in the suffering and sacrifice of our Lord Jesus Christ. 
ALSO, you are invited to join our round of daily prayer and meditations on Zoom.  Go to 'Daily Morning & Evening Prayer' and 'Daily Meditation' tabs to find out more.
CLICK HERE For Order of Service including readings for Sunday 19 September
CLICK HERE     For Live Stream Worship Sunday 19 September (streamed from 9.55am)
CLICK HERE    For Recorded Services
CLICK HERE    Weekly Newsletter 'Lovers of the Place',  19th September, 2021
CLICK HERE  For next weeks readings Sunday 26th September
| | |
| --- | --- |
| QR Code for St George's Queenscliff               Sign in or bring your mobile phone for the QR code | QR Code for St James Point Lonsdale            Sign in or bring your mobile phone for the QR code  |
Previous Week's Newsletters can be found on the Links and Documents page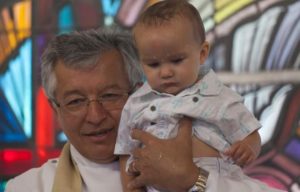 We acknowledge that we gather and worship on the traditional land of Wadda Wurrung people and honour and pay our respects to their Elders past and present. We affirm, with them, in the Wadda Wurrung language: 'kim barne barre Wadda Wurrung' (this is the land of the Wadda Warrung).