Thank you for your encouraging feedback on this new on-line dimension of our parish worship and ministry.
Having begun with borrowed and somewhat antiquated equipment, with a cable crossing the lawn between the parish office and church, we have decided to purchase our own in order to make this a permanent feature of our life and ministry. If you would like to fund a particular item, here is a list of what is needed:
Blackmagic Web Presenter and Teranex Mini Smart Panel $1015
Panasonic HC-V800 Full HD Camcorder $663
SKB Injection Molded 2U Studio Flyer Rack Case $488
Blackmagic Teranex Mini – Rack Shelf $151
Denon DN312X Rack Mount Mixer $399
Laptop $1000
Cables and plugs $200
We invite you to contribute by pressing the 'Donate Here' button below:
Welcome to our our parish worship and teaching live-streamed:
Holy Communion:  10.00am  Sundays
                                         10.00am Wednesdays 
                                         5.45pm   Fridays (Healing Service) 
IT'S TIME TO GATHER AGAIN
We will continue offering our on-line worship and events  via live-streaming and zoom
Pew Sheet Sunday 5th July 2020
Reading Fifth Sunday after Pentecost 5th July 2020
Order of Service Sunday 5th July 2020
Latest Decision on Public Worship
Dear All,
In light of the latest spike in community transmissions of the corona virus, and guided by Government and Diocesan advice, the Parish Council has made the following decisions:
Sunday 10.00am Eucharist will continue to be live-streamed, however, the doors will NOT BE OPEN FOR PUBLIC PARTICIPATION
Wednesday 10.00am Eucharist at St James' Point Lonsdale will continue to be live-streamed and the doors WILL BE OPEN FOR PUBLIC PARTICIPATION. 
Friday 5.45pm Healing Eucharist at St James' Point Lonsdale will continue to be live-streamed and the doors WILL BE OPEN FOR PUBLIC PARTICIPATION.
For the Wednesdays and Fridays we have arranged everything to facilitate the required social distancing.
Also, we are training our welcomers/sides people to assist with other safety protocols such as the sanitizing of hands and pews.
We are looking forward to opening church doors for public participation in the Sunday Eucharist as soon as it is safe to do so and when we have sufficient welcomers/sides people who have done the training so that this particular duty, now required at all our liturgies, doesn't fall on too few shoulders.
As ever, with my prayers and best wishes,
Fr Peter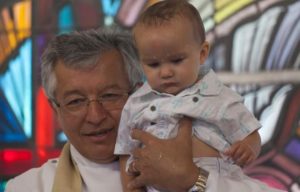 We acknowledge with gratitude that we gather on the traditional lands of the Wathaurong people of the Kulin Nation and we acknowledge and pay our respects to their elders past and present.