Pew-Sheet-for-Sunday-5th-April- Palm-Sunday
Reading-Sheet-for-Sunday-5th-April-Palm Sunday
Reading-Sheet-for -Thursday-9th-April-Maundy Thursday
Reading-Sheet-for-Friday-10th-April-Good-Friday
Reading-Sheet-for-Sunday-12th-April-Easter-Day
The ancient practice of Spiritual Communion for circumstances such as COVID9
'SOLITUDE IS THE NEW SOLIDARITY' PARISH MINISTRY CONTINUES
LATEST UPDATE Due to the evolving situation relating to the spread of COVID-19, changes relating to our churches have now been put in place. 
Last evening we heard from the Archbishop Philip with the latest advice on our response to COVID-19.
We are required now to close the doors of our church buildings and not to have parish gatherings either on or off church grounds.
By invitation only, a small group may gather in the church in order to 'live stream' a liturgy so that people may participate remotely in their homes.  We are currently putting in place the required technology.
As a community of faith, we need to be imaginative about maintaining our social and spiritual connection within the requirements of social distancing and for some, self-isolation.  Here are some thoughts:

More than ever, attend to your network of friends by what ever means possible.  For most, this will mean phone calls,  emails and SMSs.  Remember, although this cannot happen under a parish auspice, we are still allowed to gather in groups of up to ten people, AS LONG AS IT IS SAFE TO DO SO.  This may change at short notice.
Within the parish over the next day or so I will put in place a system that will ensure that we keep an eye on one another.  We'll keep you posted.
Here is the advice from Archbishop Philip about pastoral care from me as you priest:
Pastoral Care by the Clergy
Personal pastoral ministry will be challenging in a lockdown and restricted access situation. It is certain that this ministry will be requested and clergy need to work through the hygiene and personal spatial separation issues that a pastoral visit or a home communion raise. Social isolation will increase the risk to mental health and general wellbeing. If there is a large increase in rates of infection we need to expect that we will be confronted by circumstances that we have not encountered before in our pastoral ministries.
We expect clergy will maintain regular contact with parishioners by phone, skype or other digital means at the least.
Please be aware that I am keen to offer pastoral ministry along the lines indicated – including home communion – but the initiative has to came from you.  In general, please let me know of your needs – I'm afraid there is no magic way of me knowing apart from you telling me.
Prayer and Worship
Although I will be by myself, I will keep up the Parish rhythms of prayer that are already established (Evening Prayer will be in St George's church from now on):
Sunday Eucharist 10am and 5.45pm Friday Healing Eucharist live streamed.      (For the time being, Wed 10am and Sunday 5pm Holy Communion services are in abeyance)
Morning Prayer 9am Monday, Tuesday, Wednesday, Friday and Saturday.  In St James' Church.  Preceded by 30 minutes silent meditation.
Evening Prayer 5pm Monday, Tuesday, Wednesday and Saturday In St George's Church.  Preceded by 30 minutes silent meditation.
I will ring the bell in each church at the beginning of each of these Liturgies.
I invite others to take up the practice of Morning and Evening Prayer at home as a spiritual practice:  a time honoured Anglican tradition amongst the laity.  A good time to experiment!  Please borrow one of the Green Prayer Books (APBA), copies of which can be found in the red plastic box in the covered causeway between St James Church and Gill Hall.  For these daily services go to pp 383 and following. 
 For those interested I have attached here the full text of Archbishop Philip's email can be found on the "This Week and This Month" page. .
If you've read this far, well done.
On a 'lighter' note.
The oil sanctuary lamp above the altar of each church will be tended daily.  The oil for these lamps is supplied by local olive oil producer Leanne Allbutt, whose mum Nancy made as enormous contribution to our parish.  A couple of weeks ago, when things were still relatively settled, she said in an SMS; "I want to keep the lamps burning!! Ironically, my secondary school motto was 'let your lights be burning'".
So let each of us, every day, keep tending the lamp of God's light in our heart.  The oil symbolizes the Holy Spirit; the light is Jesus who said of himself; 'I am the light of the world'.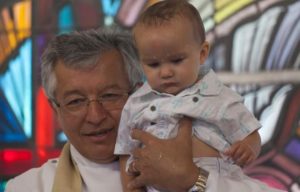 We acknowledge with gratitude that we gather on the traditional lands of the Wathaurong people of the Kulin Nation and we acknowledge and pay our respects to their elders past and present.