THANK YOU …
Having begun our live-streaming with borrowed and somewhat antiquated equipment, with a cable crossing the lawn between the parish office and church, we have now reached the target of our fundraising and have purchased the necessary equipment to make this a permanent feature of our life and ministry .
Thank-you to all those who contributed, we are forever grateful for your generous donations and ongoing participation in our live-streaming. As you can imagine, reaching out to parishioners and friends in worship and pastoral care has been our highest priority during these difficult times. Live-streaming worship is the cornerstone of this effort, so, thank-you again for enabling us to respond to the immediate needs and also to make this a permanent part of our life and ministry.
A big THANK-YOU must also go to Jackson Hepner and Helen Martin for all their help and technical support during this process. Their generosity has made possible a smooth and timely transition to live-streaming.
TOTAL NEEDED $3,716 = TOTAL RAISED $3,716
Welcome to our our parish worship.
Our three weekly services of Holy Communion are live-streamed:
10.00am  Sunday 9 August, 2020 Order of Service Holy Communion
10.00am Wednesday 5 August, 2020  Order of Service
 5.45pm   Friday (Healing Service) 7 August, 2020 Order of Service
From Father Peter
Dear All,
While we settle into a new phase of the corona virus lockdown we keep adapting our parish life to the changing circumstances and, of course, the practical side of parish life still needs to be attended to.
Whether through malice or boredom or some dietary deficiency, the Sulphur Crested Cockatoos have pecked away at the upper parts of the St George's tower, not so much causing structural problems, but exposing the need for a review of the tower and its structural integrity.  We have engaged Dan Blake, Heritage Architect, to examine what needs to be done.  This Monday, Parish Council will meet to further these discussions.
In the meantime, we are delighted that the fundraising goal for the live-streaming equipment was reached last week, coinciding with the arrival of the last of the equipment from overseas.  We didn't factor in the wiring that would be needed so we can hook up the sound systems of the two churches to the new set-up.  So, if you missed out on donating towards the equipment, you have an opportunity to finish off the job by donating to the sound system.  All contributions welcome.
We are all acutely aware of the unique pressures the aged care sector is under, and this impacts on many of our friends and parishioners.  Normally we would go to Arcare twice a month, but I haven't been able to for a few weeks now.  Instead, we have redesigned our 10am Wednesday morning Holy Communion for this group and are live-streaming the service every Wednesday for use at Arcare as well as Sea Views Manor.
Let us all err on the side of caution, and pray for our leaders as they take us through these extraordinary times.   
With my prayers and loving best wishes, as ever.
Fr Peter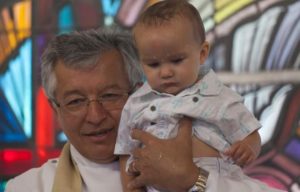 We acknowledge with gratitude that we gather on the traditional lands of the Wathaurong people of the Kulin Nation and we acknowledge and pay our respects to their elders past and present.