Thank you so much for your generous support once again.  Our livestreaming wiring has been updated and we have a much more reliable connection in both churches now.  We are looking forward to when we can attend church together, however in the meantime we remain connected through livestreaming the services.  Please know you are always in our prayers.
Welcome to our our parish worship.
Our three weekly services of Holy Communion are live-streamed:
10.00am  Sunday 27 September 2020                                           
10.00am Wednesday (BCP) )  30 September 2020         
 5.45pm  Friday (Healing Service) 2 October 2020            
From Father Peter,
Our weekly pew sheet is in the process of morphing into a weekly Newsletter.  See above.
With Prayers, as ever,
Fr Peter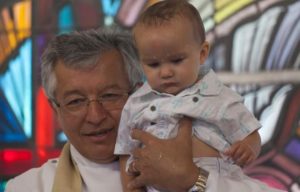 We acknowledge with gratitude that we gather on the traditional lands of the Wathaurong people of the Kulin Nation and we acknowledge and pay our respects to their elders past and present.